Hi folks!
I am currently vegged out on the couch in what I am lovingly referring to as "the calm time". I have the flu right now and at the moment all is well, no shaking and freezing or no hot sweats and aches...for now anyway...so I figured this would be a great time to show y'all the sweet little entry table I recently completed for our super small entryway.
Check this out:
I bought this delish looking gal from a neighborhood yard sale for only $5.00. Oh yeah!
I had actually gone up to the house because there was an antique fan sitting on top of this table but I left with the table and not the fan. That's how I roll. :-) Seriously, would you have passed it up for 5 bucks? The top was a bit discouraging, it looked to be burn damage, but since the rest of the little beauty was pretty and intact I snatched her up.
That was August 2011.
Fast forward to Nov. 2012 and I finally found a use for her and decided to get started...
I moved into this house officially in September and this little "nook" was bugging me. I knew I needed to get something to fill the space and add some life and character to my teeny tiny entryway.
This is a shot from with my back against the front door...
See? Tiny. That door on the left is the garage and the door on the right is our office. The stairs take you up to the main living part of the house.
I am trying to figure out what to hang on the wall above the table now. It needs something. Any suggestions?
Anyhoo...she sat around all green and pretty for about a week until I figured out what to do about the top.
Here is what I did to cover that mess:
I just grabbed an old book I scored from goodwill for a quarter and pulled some of the pages out and mod-podged them right on top. I gave the entire thing 2 coats of spray poly to seal it and there you have it!
In case you are wondering the color is Satin: Leafy Rise by Valspar.
I think she turned out pretty well. I heart the color very much and now I just need to come up with something to put on her cute little shelf and something for the wall above and she'll be stylin' and profilin'.
Thanks for lookin! See y'all soon!
Linking here: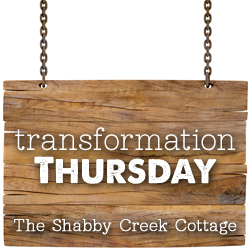 &